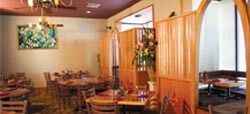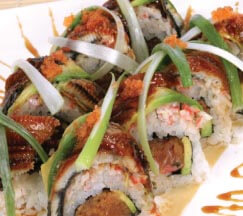 About Siam Orchid
Siam Orchid offers both the best in Thai and Japanese cuisine. Thai appetizers, soups, noodles and expertly prepared entrées. Entrées ranging from the Chef specials, like Garlic Lobster to Pla Lad Prig (Fried filet white fish topped with our special Siam Orchid chili sauce to our duck entrées). Japanese appetizers from the sushi bar, to the roll/sushi/sashimi combo boats, to the exquistly prepared dinners; Siam Orchid has it all. Open for lunch and dinner, Monday thru Saturday & dinner on Sunday.
Catering
Siam Orchid specializes in sushi rolls which are artistically appealing. Our chefs have spent endless hours of experimentation to create the sushi variations which you will see at your event. Additionally, if you and your guests have special preferences for specific types of fish and/or more exotic fish, we are very flexible.
Rent a sushi boat or create your own sushi boat for that special occasion. You can rent a sushi boat for birthday parties, team building parties or make the perfect Valentine's Day gift with a romantic sushi boat trip. (Refundable deposit on boat) Boats available up to six feet.
Thai and Japanese cuisine
Whether you favor the sushi bar (complete with a color TV), the cozy/traditional pillows and tables that populate the floor, or the regular tables and chairs in the main dining room, it's the food that keeps people coming back again and again. The menu is large and diverse, with standards like miso soup, edamame and seaweed salad are complemented by unique concoctions like the secret-ingredient in the Sea of Love Roll. Portions are large.